UAE starts trading in second market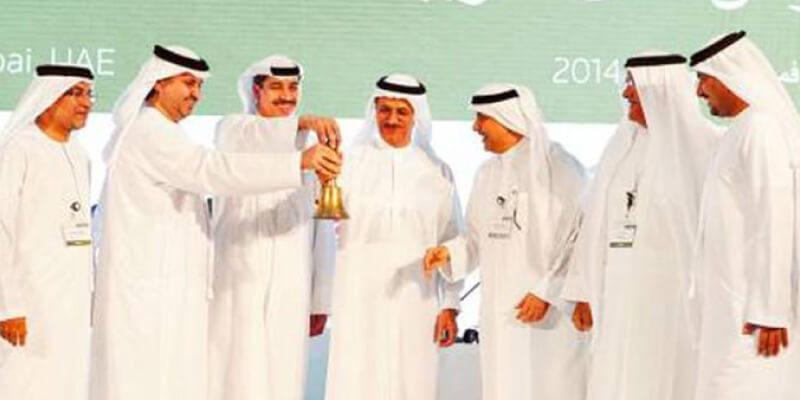 Sultan bin Saeed Al Mansouri,UAE Minister of Economy, during the opening ceremony of First Arab Capital Markets Conference along with others official at Waldorf Astoria, Dubai Palm Jumeirah.
Dubai: The UAE started trading in second markets on Tuesday, a move that can boost liquidity for private companies and pave the way for its IPO in the primary market.
The second market will be a market segment within the existing infrastructure of securities market to list private companies. Investors will be able to buy and sell shares of private company depending on fundamentals like supply, demand, financial statements and other disclosures.
Sulatn Bin Saeed Al Mansouri, UAE minister of economy rang the bell along with Eisa Kasim, chairman of the Dubai Financial Market and others, inaugurating the secondary markets at a capital markets conference in Dubai.
"We are starting trading of secondary markets in Dubai and Abu Dhabi with listing of 2 companies," said Al Mansouri. Trades started on Manazel Real Estate and The National Investor, an investment advisory firm on the Abu Dhabi Securities Market.
The capital markets regulator is reviewing applications of a number of private companies and expects to have 5 companies listed in the second part of next year.
"We are expecting to have a good market. This market will accommodate the small and medium companies not only from the UAE but also from the region. For the time being we have two companies listed today. We are expecting to have more companies hopefully by next year. We are reviewing applications of some companies and hopefully they will be ready by next year ," said Abdullah Salim Al-Turifi, chief executive officer at Emirates Securities and Commodities Authority.
"This is a new experience for us in the second market, but this will be good opportunity for companies to see and practice the rules and regulations. Rules on this market are more or less more flexible compared to the public companies. We would like to see from those listed in the second market their transparency, disclosures, financial statements. Hopefully by the second part of next, we will see atleast 5 companies to be listed between the two markets," said Al Turifi.
"The reason to have this market is to encourage the listing or to bring them to the platform where they can have disclosures, transparency and a lot of shareholders will get more information now. I'm sure they will be happy now as they will get more information now," said Al Turifi.
More IPOs:
"I'm expecting about3-4 companies to list on both Dubai and Abu Dhabi by the second half of the year," said Al Turifi.
The series of IPOs mostly on the DFM has ended a drought for the past 5 years. Companies such as Marka, Emaar Malls Group have already been listed on the DFM, while others such as Dubai Parks and Resorts and Amanat are planning to list in the short term.
The DFM General Index has gained more than 40 per cent so far in the year, making it the best performer in region, and other companies like, Daman Investments plans to come out with an IPO in 2015, joining the companies, which have been cashing in on robust investor appetite in the primary market.